Yuck! That Pool is Unhealthy!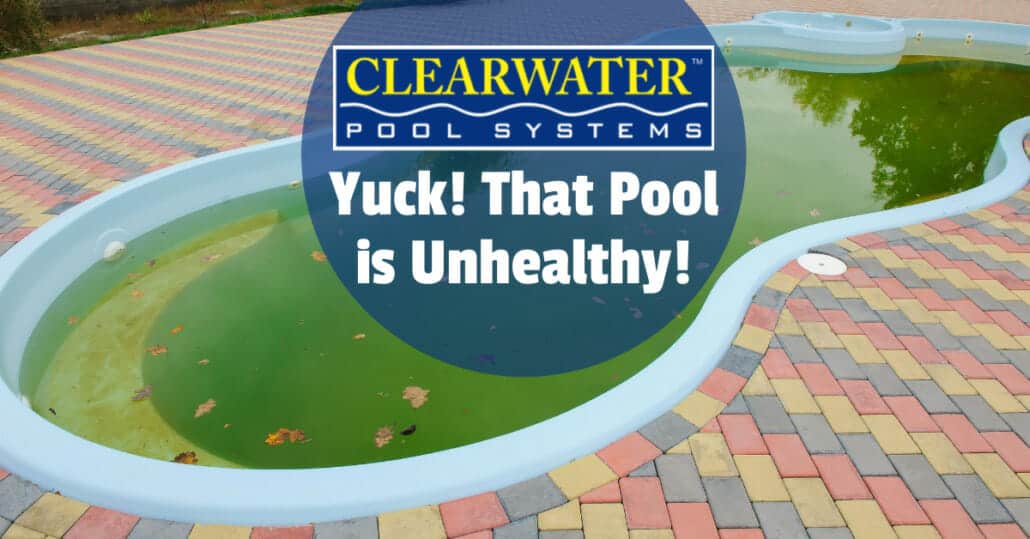 We are continuing our series of articles discussing common signs which may indicate that a pool is unhealthy. One of the biggest culprits of a pool becoming unhealthy is pool water balance that is off and/or poor pH control. This results in some of the signs we've discussed in previous articles including cloudy or green water, strong chlorine smell, and an unhealthy pool alkalinity or chemistry. Let's explore more indicators of an unhealthy pool.
Water That Appears Foamy or Bubbly
Foam and bubbles are indications that a pool likely has a lot of contaminants that could be a result of lotions and soap, poor pool water balance and/or poor pool pH control, clogged filters, bacteria, algae, etc. If you see bubbles or foam, run the other way!
Signs of Larvae, Insects, or Other "Life" Residing in Your Pool
When a pool is severely neglected, various creatures may begin to set up home. This can include mosquito larvae, beetles, tadpoles, and any other life form that resides in water. This is a definite indicator for you to stay out!
One way to eliminate the problems associated with an unhealthy swimming pool is to maintain pool pH control. Pools with overall poor pool water balance are simply not healthy. Too many chemicals can also cause issues associated with a muriatic acid swimming pool.
Clearwater Pool Systems is an affordable solution to help maintain pool pH control. It features a three-part solution to combat pool water balance issues and allows you to utilize less chemicals, thus avoiding problems associated with a muriatic acid swimming pool. The MineralPURE™ pool ionization system, OzoneMAX™ ozone pool system, and all new pHPURE™ CO2 pool system delivering a safe and calculated CO2 injection for pools work together to keep pools healthy and in a safe, swimmable condition.
If you want to really get a handle on pool pH control, then we invite you to consider Clearwater Pool Systems. If you operate a commercial pool, please connect with the authorized dealer nearest to you today or e-mail us at sales@clearwaterenviro.com. Homeowners can order our homeowner models online at Home Depot. Give the Clearwater Pool Systems ozone pool system, pool ionization system, and CO2 pool system a try today!
https://eyznku599qc.exactdn.com/wp-content/uploads/2022/10/Yuck-that-pool-is-unhealthy.jpeg?strip=all&lossy=1&quality=92&ssl=1
628
1200
jong833@gmail.com
/wp-content/uploads/2022/03/logo-healthier-tagline-white-1-e1648415586658.png
jong833@gmail.com
2022-10-25 19:04:39
2023-05-12 20:43:06
Yuck! That Pool is Unhealthy!