Maintain a Healthy Pool AND Reduce Muriatic Acid and Chlorine Use By 95%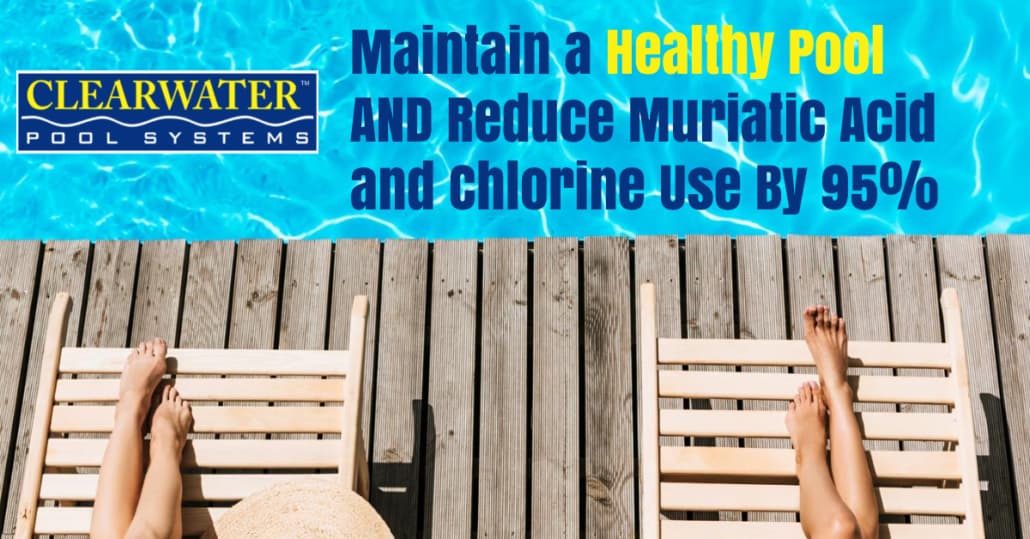 Clearwater Pools Systems has been offering the most healthy and effective way to avoid an unhealthy, over chlorinated, and muriatic acid swimming pool experience. We are introducing a new product to complement our popular ionization and ultraviolet ozone systems. Our new CO2 pool system delivers a safe CO2 injection for pools that is designed to balance pH alkalinity, further reduce the need for muriatic acid, and effectively help you achieve and maintain a healthy pool water balance.
This new component will make the Clearwater Pool Systems the most powerful, effective, and affordable pool water balance solution on the market today. Let's take a closer look at the complete system:
MineralPURE
Generates safe copper ions
Reduces chlorine use in residential pools by more than 90%
Reduces chlorine use in commercial pools by more than 75%
NSF approved/NASA licensed technology
OzoneMAX
Safely injects ultraviolet ozone
Further reduces chlorine use
Controls cryptosporidium and E. coli
Promotes crystal clear water
pHPURE
CO2 Injection for Pools / pH Control
Are you searching for a system that is affordable, reduces the need for chemicals, balances pH alkalinity, controls cryptosporidium and E. coli, and encourages a healthy pool water balance? If so, them the complete solution from Clearwater Pools Systems is exactly what you need to achieve your goals. If you are already using one of our existing ionization or ozone systems, we encourage you to consider adding our new CO2 pool system to help you maintain optimal pool water balance while reducing the need for harmful chlorine, muriatic acid, and other chemicals. We encourage you to join the wait list now to be one of the first to enjoy the benefits of our new pHPURE CO2 injection for pools system today.
https://eyznku599qc.exactdn.com/wp-content/uploads/2022/05/Maintain-a-Healthy-Pool.jpeg?strip=all&lossy=1&quality=92&ssl=1
628
1200
jong833@gmail.com
/wp-content/uploads/2022/03/logo-healthier-tagline-white-1-e1648415586658.png
jong833@gmail.com
2022-05-26 17:58:29
2023-05-12 20:42:57
Maintain a Healthy Pool AND Reduce Muriatic Acid and Chlorine Use By 95%